EFAO Conference Illustration
Completed September 2019.
Unannounced Children's Book Illustration #6
This is for my own children's book but it's too early to mentioned very much about it other than that it's a Canadian folk tale of my own making.
Stratos Edition 2
Completed April 2019
Painted in Adobe Photoshop
"Who Will Feed Us" Cover Illustration
ETC Group Infographic "Who Safeguardes Our Fisheries?"
ETC Group - Gene Drive Infographic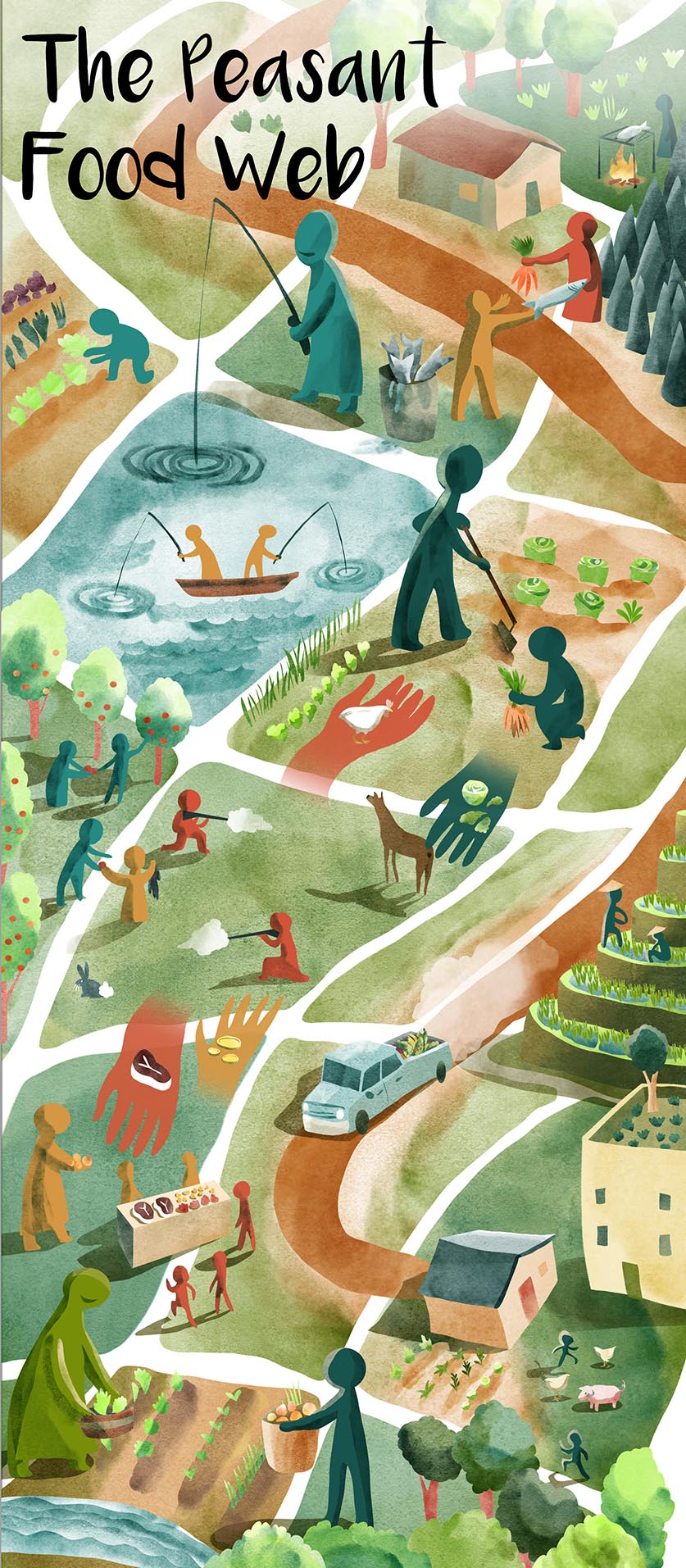 "The Peasant Food Web" Infographic
Sayni and the Windowjet Brothers - Front Cover
Sayni and the Windowjet Brothers - Welcome to Candleton
Sayni and the Windowjet Brothers - Uncle Garmo
Sayni and the Windowjet Brothers - New Paths
Sayni and the Windowjet Brothers - The Factories Beyond Crumbling Shacks
Sayni and the Windowjet Brothers - The Rocks Became Figures
Sayni and the Windowjet Brothers - The World of the Windowjets
Sayni and the Windowjet Brothers - They Spoke Through Music
Sayni and the Windowjet Brothers - Suddenly Back in Candleton
Sayni and the Windowjet Brothers - Making Her Compass
Sayni and the Windowjet Brothers - Hello Lost One
Sayni and the Windowjet Brothers - Into the Blaresko District
Odyssey From Waste
Ignite Your Dreams
100 Years of Solitude Poster Art
Sufidias, Judge of Technology
Assist of the Muses
The Yearly Berry Catch
Stratos Board Game Box Art
A Bridge to the Unfamiliar
Quote Illustration - Bob Dylan
Quote Illustration - Chuck Jones
Quote Illustration - Dr. Seuss
Quote Illustration - J.R.R. Tolkien
Quote Illustration - Henry David Thoreau
Quote Illustration - Kurt Vonnegut
Quote Illustration - Goethe
The Fox and the Butterfly
The Long Trek Home
Giacomo the Pumpkin - Introduction
Giacomo the Pumpkin - Manny and Pat
Giacomo the Pumpkin - Catching Fish
Giacomo the Pumpkin - Help from Anyone
Giacomo the Pumpkin - Magic Pumpkin
Giacomo the Pumpkin - The Break
Giacomo the Pumpkin - Giacomo Saves the Day
Giacomo the Pumpkin - On a Hike
Look Out to the Sea